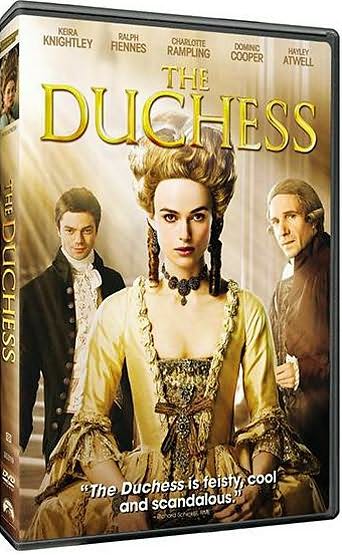 Y
ou thought I was done complaining about
The Duchess
, didn't you? Well another enigma has sprung up which I need to share. As I was musing through
Factual Imagining
today I discovered that
The Duchess
is to be released
on DVD on 27 December- two days after Christmas. I was shocked that it was coming out so soon, and what an awful time to be released: after the Christmas rush. So as I was musing through pre-order goodness to find the best deals for those who are interested (see below) and I find that it won't be available on DVD in the UK until March!! I'm assuming this is because it's still being released in theaters in Europe at the same time, but yikes! That's a big gap! Either way, here are the best deals I found:
Amazon $17, save 43%
Amazon UK £13, save 35%
Best Buy $20
Oh and on a(nother) sardonic note, I did not find the movie to be nearly "fiesty, cool, and scandalous" as the real duchess. How did someone even get that impression? Okay, I've said my piece.