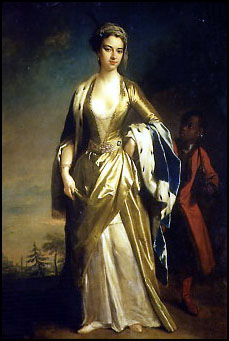 Some women are difficult to sum up in their honourary Friday mention. Lady Mary is one of those women. It almost makes me feel bad for
calling her a tart...but then again, I never said being a tart was a bad thing!
The daughter of the Earl of Kingston, Mary was born in 1689. Mary's intelligence was apparent early on in a time when educating women was considered a waste of time. She later talked of how she would "steal" her education by secretly studying Latin while her family thought she was reading romances. She made friendships with early feminists such as Mary Astell and Anne Wortley Montagu. After Anne's death's in 1709 Mary continued corresponding with her similarly-minded brother, Edward Wortley Montagu. Soon love bloomed, but Edward was not Mary's father's choice
Instead, Mary was betrothed to Clotworthy Skeffington;
I'll just give you a moment to visualize what someone with that name might look like (hint)
. As the day of the wedding drew closer Mary
became more agitated at her future prospects, describing the wedding preparations as "daily preparation for my journey to hell." But just as with her education, Mary was not about to accept what others' intended for her. Days before the wedding, Mary caused a scandal by eloping with Edward, much in the style of the romance novels she always pretended to read.
The early years of her marriage were spent in seclusion while Edward climbed the political ladder. Four years after their marriage, Edward was appointed ambassador in Istanbul. Mary, instead of being fearful of the foreign customs of the Ottoman Empire, dove into the culture head first, even learning the language. When she returned to England she did so in Turkish dress, which began trends in Europe. She also, and very importantly, introduced the Turkish practice of inoculation against Smallpox to Europe, saving the lives of many daring Europeans who were willing to take the risk of exposing themselves to the deadly disease.
By now Mary was a celebrity. She also had a famous group of
friends which included Horace Walpole and Sara Churchill. She also had a very famous spat with
Alexander Pope
.
He probably had a crush on her!
Mary, herself, was rumoured to have had an affair or two.
In 1739 Mary kissed her husband goodbye for what would be the last time, and went abroad. They didn't leave on bad terms and she continued writing affectionately to him. She traveled around France and Italy, visiting friends. Edward died in 1761, leaving Mary a very wealthy widow. She was not to enjoy the money, however, because she died the following year. After her husband's death, her daughter begged her to return to England, which she did, only to die shortly thereafter. Her last words were reportedly, "It has all been most interesting." Having never published any of her writings during her lifetime to avoid public scandal, her letters of her
Turkish Embassy Letters
and other works were published after her death and received with great interest.