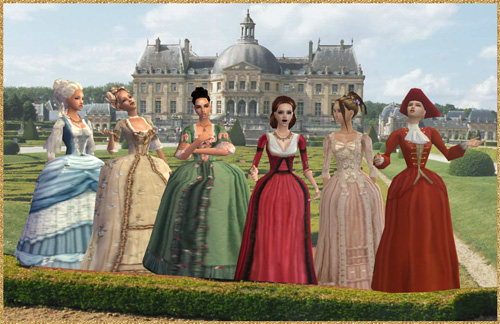 I
'm going to nerd out a bit, and veer a little off-subject but I can't contain myself.
The Sims 3
comes out today with promises of endless creativity. You can get all the good information from
the site
but I thought I might point out some things that might interest the regular readers...or at least the ones who play The Sims.
One of things I find interesting about the game is how extravagant and creative people can get. The picture above displays some of the clothing people created (for The Sims 2) outside the actual game. Although my nerdiness/love of the game is very strong I never got into creating my own people or furniture from scratch. The Sims 3 makes it even easier to customize your sims and their environment. By the looks of things, you can alter physical features to make close replications of real people; or at least closer than in past versions of the game.
For those interested in building and designing their own Versailles, while ignoring that pile of dishes in the sink; I have already discovered a nice set of rococo-esque furniture on the site. These can be custom upholstered to your liking as well, imagine the possibilities.
I know the audience here is probably a little more mature than me *blush* (yes, there's just some things I'll never grow out of, video games being number one). But this art historian does need some mindless distraction...plus I owe myself a birthday present! Maybe you do too?