Salon 1, Welcome, get cozy, and let's get chatting!
Summary
Our novel opens with Sir William Stanley's letter to his friend, Lord Biddluph telling him that on his trip to Wales he acquired a wife. Sir William knows that this news will shock most, but as he puts it,
"Don't every body marry?"
His new wife is Julia Grenville, a country-girl, who although is "rustic" in Sir William's opinion is beautiful enough to tempt him into the shackles of matrimony. Beside being young and naïve we find that Julia is also
"Mild, passive, duteous, and innocent"
which excites Sir William. Sir William is quite the opposite.
We are also introduced to two other players: Sir William's pen pal, Lord Biddluph and a man from Julia's past, Henry Woodley. Lord Biddluph reveals the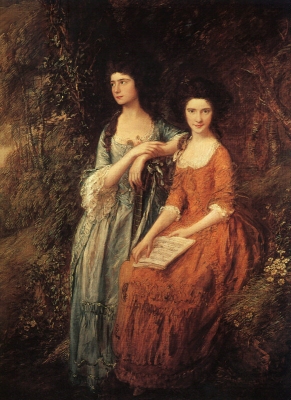 competitive nature that exists between him and Sir William and confirms that they both lead a rake's life. Woodley writes to his friend to bemoan the loss of Julia, whom he has been in love with since they were children. Freshly returned, from making his fortune, he went to her father's house to propose only to find he was too late.
Julia's letters to her sister talk of the difficult adjustments to life in the ton. The bustle of London frightens her and she is perplexed by the grand fashions. She is constantly being scrutinized by her husband and those around her for the social faux-pas that she commits due to the how foreign her new lifestyle is. To aid in the adjustment Sir William has recruited Lady Anne and Lady Besford to be Julia's companions, which as Lord Biddluph hinted at, could not be the best match for the naïve newlywed.
Discuss
Sir William's introductory letters may not be the most interesting way to begin the novel but serve to give us an idea of how different he is from his new wife; they are foil characters. I found Letter 3 very interesting in that it gives a wonderful description of
Piccadilly Circus
and the change of lifestyle as Julia transitions into the life of an aristocrat. Letter 8 continues to give these great eye-witness accounts of high society.
The Georgiana Connection
Julia brings up
Puce
, the color that Marie Antoinette popularized and which Georgiana and her mother talk of in their personal letters to each other around the same time (some excerpts
here
). This is the same chapter where Georgiana sneaks in a reference to herself,
"He had run the risk of disobliging the Duchess of D--, by giving me the preference of the finest bundles of radishes that had yet come over; but this it was to degrade himself by dressing commoners."
She couldn't resist sneaking a clue into her anonymously-published novel, oh which there are several hunts throughout the book. In the same stroke, she pokes fun at herself for her own outlandish fashions.
Throughout the book Julia frequently refers to a "vortex of dissipation." In her letters dating from the same time, Georgiana often uses this phrase to describe her own life. Those lucky enough to read both would undoubtedly catch the frequency of this Georgiana turn-of-phrase, if you will.
Georgiana is also very black and white with her characters. Those from the aristocracy come off as pernicious while those from Wales (The Grenvilles, Woodley) are very innocent. Woodley himself seems like the ideal Enlightened man, embroidering his tear-stained letters with poems and such.
If you were suddenly thrown into London
ton
life like Julia do you think you'd cope better than she? Does one only need an open-mind to survive this lifestyle or does it take more of a cunning personality? Do her descriptions of her life scare you as much as they scare her or are they more intriguing than terror-inducing?