Summary
Julia finds her home overrun with bailiffs collecting her possessions. To add to her distress Lord Biddluph pays her a visit to collect what was promised to him from Sir William. Julia is in disbelief at Lord Biddluph's proposal to exchange sex for paying off her husband's debts and tries to turn him away but upon seeing the signed contract, feels defeated. Unable to show fortitude in such a situation she gives into
her raw emotions and Lord Biddluph seems moved by her tears and apologizes for the offense. She is finally able to get him out of the house by promising to see him the following day and immediately begins packing to run away with the help of Miss Finch. She writes a farewell note to Sir William telling him,
"Remember, this is the first instance in which I ever disobeyed your will."
Lord Biddluph's show of sympathy was apparently a farce, as he now writes to Colonel Montague excited for his intended victory of Julia the next day. His letter is interrupted when he has to attend on Sir William at a tavern. His letter continues in distress to say that after receiving Julia's letter Sir William shot himself in the head and is now dead. He renounces all his evil-doing and is traumatized by the affect of his plots.
Julia is accompanied by Mr. Stanley (her "uncle") and Miss Finch back to her family. She will now live half the year with her father and the other half with Mr. Stanley whom she has built up a good relationship with. For once in a long time, Julia is contented with her life.
Discuss
You can't help but feel bad for Julia. Just when she thought her husband couldn't get any lower, the person she hates most in the world comes bearing that contract. I wonder if she would have been more accommodating if it was Baron Tonhausen who came with the indecent proposition. Yes, of course, I know she wouldn't; I just couldn't resist! Did anyone buy that Biddluph was actually moved by her display of distress? That he genuinely felt remorse for his shameful actions? I know I did. That made me even more disgusted in the following letter when Biddluph admitted his act was just a farce so that he could get what Sir William signed over to him whether Julia was willing or not.
I also noted something of interest that some of you may have picked up as well. After Biddluph leaves Julia's faithful servant, Win comes into the room and Julia,
"forgetting the distance betwixt us (but misery makes us all equal), I threw my arms around her and shed floods of tears into her faithful bosom."
When Win is mentioned in the book all other times it is with the most grateful affection. Yet, even though Win has served Julia as both friend and servant, Julia is in the state of mind that hugging Win is beneath her. For someone such as the saintly Julia to think that, makes you realize the sort of distance between servant and master/mistress.
The Georgiana Connection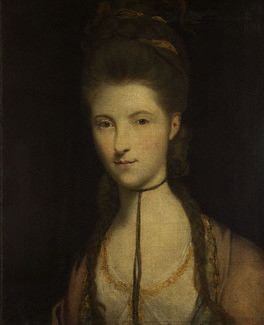 Sir William's suicide due to mounting debts was inspired by the death of
John Damer
which occurred two years previous to The Sylph's release. Damer was the husband of
Anne Damer
a talented sculptor and friend to Georgiana. Damer was known to be a drunk and gambler, who couldn't hold on to a shilling. When his debts amounted to obscene amounts of money he, like Sir William, shot himself in the upstairs of a tavern. This left his wife to deal with the debts, but luckily she, like Julia had a fairy god uncle; in Anne's case it was Horace Walpole who helped her get on her feet again.
The last few chapters end with everyone hooking up. Miss Finch and Sir George Brundenel seemed to of formed an attachment and even Louisa has found love in the form of James Spencer. Love is in the air!
With a few more chapters to go, does anyone have any predictions? Will Julia happily live out her widowhood with Mr. Stanley or is there something else in the cards.