L
et's talk of a pure London girl this week. Who doesn't love those? They're cute and fun and have great outfits. Sure, there might be some complications with men and you can't cross them on a bad day but that is part of of their charm. Lady Elizabeth Berkeley was born in Westminster in 1750, the daughter of an earl. Not much is known of early life, but at 17 she married the Honourable William Craven who became the 6th Baron Craven two years later.
As is typical of these aristocratic tarts, Elizabeth's marriage was a rocky one. She had an affair quickly after her marriage with the Duc de Guines, a French ambassador. Despite this, she managed to pop out six children. But Elizabeth wanted more than just that and settling into the boring life of a docile wife left a bad taste in her mouth. Her true calling was writing and she produced many notable plays, books, and even a memoir. Her writing pursuits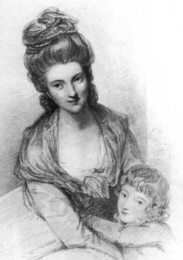 introduced her celebrities like Samuel Johnson, James Boswell, and Horace Walpole, and lasting friendships were established. Meanwhile, Elizabeth was developing quite the reputation as a bona fide party-girl. She gambled, drank, and slept around. In fact, it seems as though she was the life of the party although I would love to know if that novelty
went away with age
. One of Elizabeth's affairs was with Christian Friedrich Karl Alexander, the Margrave of Brandenburg-Ansbach who was the grandson of the King of Prussia.
By 1780 the earl had had enough of her affairs and partying (despite him having his own affairs) and the couple divorced. Now, here is an interesting little fact. At the time of the divorce (in a means of self-consolation?) Lord Craven decided to build a home on the old hunting grounds of Anne Boleyn. This woodland retreat was dubbed "
Craven Cottage
" and although the original structure has been replaced by a football pitch, it still remains the name of Fulham FC's home stadium. I have had the luck of seeing not one, but two of my clubs defeated by Fulham on this historic Craven ground. But that's what being a Newcastle fan gets you....
But I digress! The newly divorced Elizabeth traveled the continent, writing and partying along the way. One of her more notable works was
A Journey through the Crimea to Constantinople
. Also, being a party girl she had rivalries with other tarts. She referred to
Grace Elliot
as 'Glumdalclitch' -the giantess from
Gulliver's Travels
. In 1791 the wife of her longtime lover,
Alexander
(the Margrave), died. Later that year in September, Elizabeth's ex-husband died as well. By Halloween her and Alexander were wed. The two lived an lavish life together (he had already built her houses before they were married) but were ostracized by high society for their scandalous pasts. This didn't stop them from throwing parties in their Hammersmith home. Elizabeth continued writing plays at this time and sometimes would be seen in the theatre on the stage alongside
Mrs. Abington
, rather than in the audience. Elizabeth also was not allowed to share her husband's rank and title although in Enlgand they were refered to as the Margrave and Margravine. Eventually, she was given the title of Princess Berkeley by Emperor Francis II of the Holy Roman Empire. A few years later, Alexander died.
After her husband's death in 1806 Elizabeth withdrew to her home, Craven Villa, in Naples. She died in 1828 after writing her
Memoirs
but her spirit is immortalized in Hammersmith with two streets named after her,
Margravine Gardens
and
Margravine Road
.