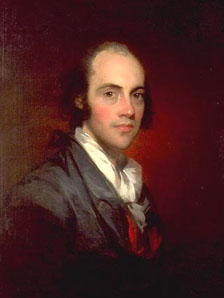 M
any know that Alexander Hamilton was killed by Aaron Burr in duel and yet do not know the particulars of the circumstances. For example, Burr was actually serving as vice president at the time when he killed Hamilton in the duel which sheds some light on just how far a political squabble can go.
The Duelers
Alexander Hamilton- Federalist, Guy on $10 bill, New Yorker, Columbia graduate, war hero, politician and first ever Secretary of Treasury.
Aaron Burr- Republican, Jersey boy, New York politician, Princeton graduate,
Mary Wollstonecraft
fan and femenist, and third Vice President.
The Deal
Here's the skinny. Aaron Burr, like Benedict Arnold gets painted in impressionable little American children's heads as this bad guy when they learn their fundamental history. Yes, you can easily counter with the fact that he is a murderer but one must look at the background before they cast any stones. Burr and Hamilton had it out for each other from the start. The two New York politicians were very competitive with each other and had a long history of taking (figurative) punches at one another. Burr saw that Hamilton's true opinion on John Adams was published (obtained from papers that were supposed to be secret) and Hamilton saw that Burr didn't receive the presidency when he tied with Thomas Jefferson in votes. So both founding fathers had questionable conduct in the workplace but outside it were pretty decent guys (Burr loved Wollstonecraft so much he had her portrait hung above his mantel and had his daughter taught based on her teachings, along with how to shoot on horseback, so he was actually quite awesome.)
The Duel
Everything came to a head more than a decade after the two began officially hating each other. The year was 1804 and the race for New York governor was on. Burr wanted the position so badly that he ran as an independent and the thought of Burr running his beloved New York state was sickening to Hamilton. Once again Hamilton did everything in his power to dissuade the voting in favor of Burr and was pleased when things turned out in his favor. But Hamilton couldn't just leave things as they were; nope, he was just as much of a grudge-queen as I, and continued to bad mouth the defeated Burr. These ramblings were published in an Albany newspaper.
Embarrassed, ticked-off, and hoping that a duel would revive his political career, Burr demanded satisfaction. Hamilton didn't want to fight, but what could he do? If he didn't duel it would be like saying Burr was right, and he (Hamilton) had no honor. No that wouldn't do at all! So at dawn on July 11, 1804 the two met on the dueling grounds of Weehawken, New Jersey on which, three years previously, Hamilton's son had died in a duel. The two shot, Hamilton's bullet hit a branch above Burr and Burr's bullet hit Hamilton. Much debate has carried on through the ages about whether Hamilton misfired on purpose (a common dueling practice) but Burr would tell you that would be, "Contemptible, if true."
Hamilton died of the abdominal wound the on the following day, July 12. Burr was charged with two counts of murder and treason. Needless to say, after his term as Vice President ended he never held a political office again. Burr shot his career dead along with Hamilton, so one could easily argue that Hamilton got the last word in this famous political rivalry.
For a drunken recap of the story check out the 4th video on
this post
.